Oct, 2022
Document scanning feature
Dokobit app now supports document scanning! Scan your physical documents, sign and share them with others in a few simple clicks.
Any document or image can be scanned and converted to a PDF file. You can sign it yourself or share it with others to be approved, signed or accessed only.
Even if the other party sends you a paper document, save time and store it in the Dokobit portal. Try it out:
Open Dokobit app, tap "+" at the bottom or Upload new in the Quick actions.
Ensure the signed document format is set to PDF and select Scan.
Position the document in the centre of the screen so that all of its corners will fit in the view. When the scanner finds the document, scanning will begin. If you prefer scanning manually, click Auto at the top right corner. Tip: You have an option for multi-page scanning, which allows you to combine multiple scans into a single PDF.
After you have scanned all necessary pages, click Save.
Create a name for your document. Optionally, you can assign this new document to any category previously created in the portal, adjust the annotation position, require only a qualified electronic signature, or set a deadline.
In the next step, you will be able to add participants. After that, select Create.
That's it. The document has been created and is ready to be signed!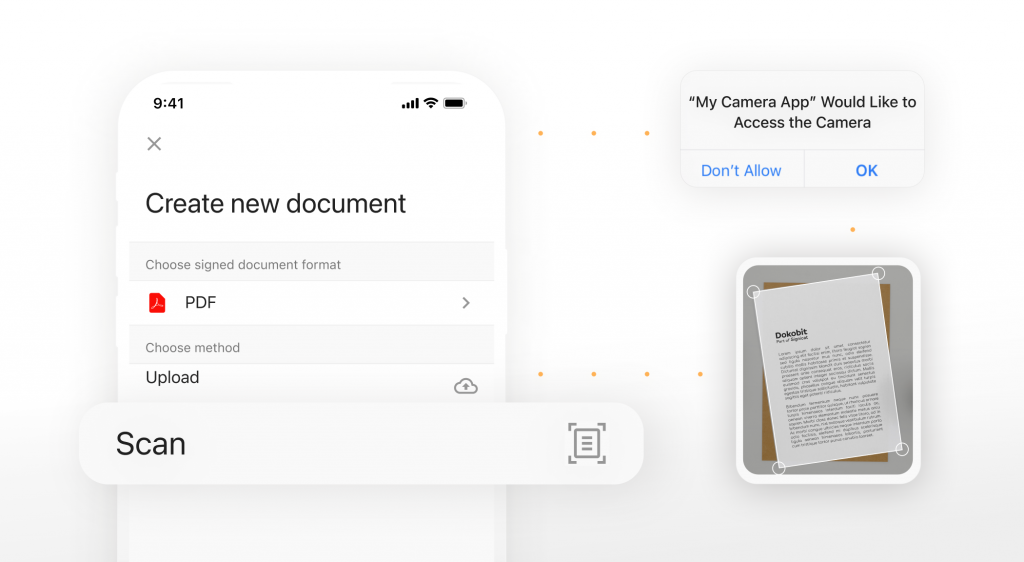 Haven't got a chance to use Dokobit mobile app yet? Download it here.
---
Oct, 2022
Branding self-setup
Dokobit users can now customise the e-signing experience for their partners and clients and connect with signatories using their branding, including logos and colours.
Discover an easy way to cultivate more profound customer relationships and build trust each time your client signs a document. Custom branding reflects your brand and is a way to ensure signers that documents sent to them are legitimate and directly from your company.
This feature has been upgraded to make it more convenient for every client with a Business and Enterprise plan to use it on their own. It's simple: select Company branding under the Company data section in the portal, add your company logo, choose brand colours and watch the magic happen.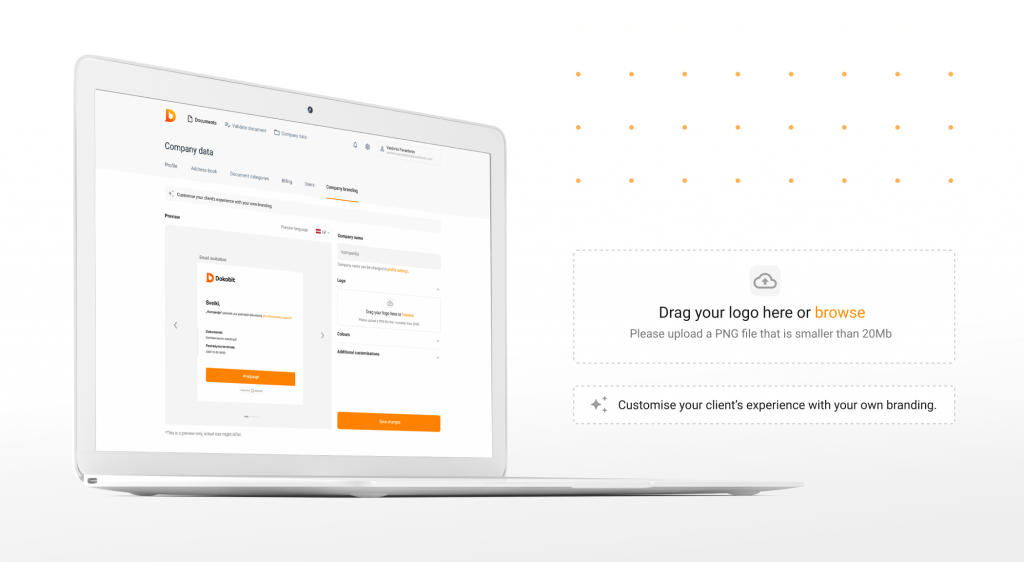 Dokobit for teams
Are you looking for an e-signing solution for your team? A smooth document signing process, neatly organised documents and intuitively easy data management are the features your team, customers, and partners will appreciate. Read all about it here: Features for business | Dokobit
This post is also available in: Lithuanian Estonian Icelandic Latvian