We are super excited! In a contest Naujasis knygnesys, organised by Information Society Development Committee under the Ministry of Transport and Communications together with Regulatory Communications Authority, Dokobit was acknowledged as the best solution in the category Smart Settlements and Urbanisation.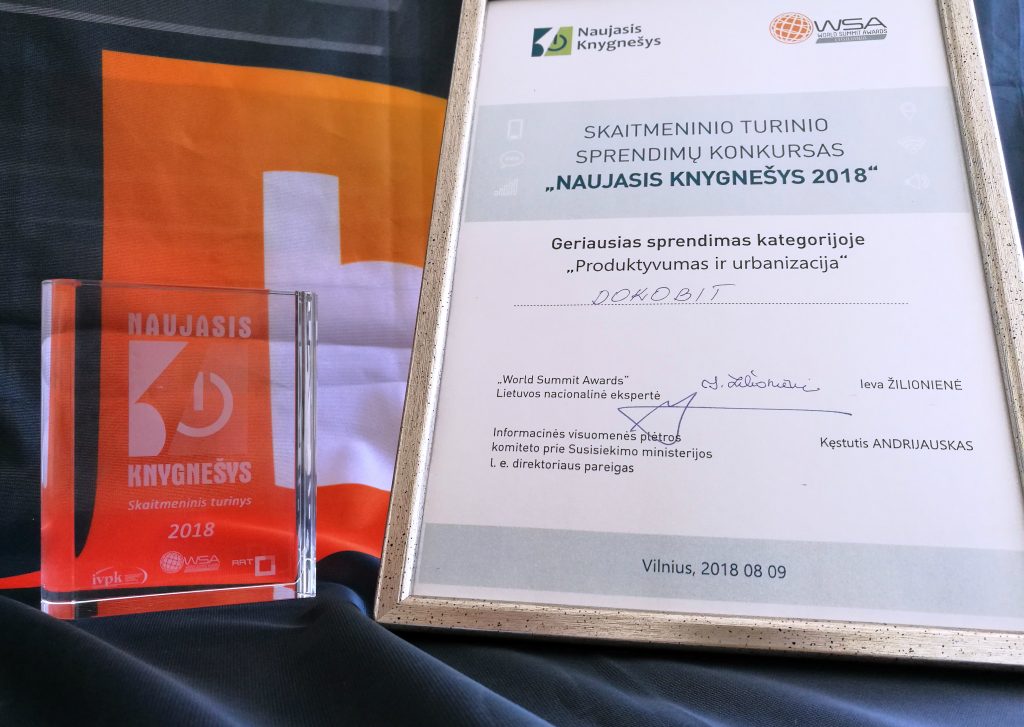 Solutions encouraging higher productivity of economy through technologies and innovation, as well as qualitative work conditions, competed in this category. According to the organisers, the goal of the contest Naujasis knygnesys is to find original, innovative, smart and important digital content solutions created in Lithuania. The most important part is that the winners are nominated to represent Lithuania in a global World Summit Awards contest under the patronage of United Nations that is meant to choose and promote digital innovations that have a big impact on the society improvement.
This year, the participants were evaluated and winners were chosen by a jury of representatives from daily newspaper Verslo zinios, telecommunications companies Bite Lietuva, Tele2, Telia Lietuva and technology experts, as well as a national WSA expert, Regulatory Communications Authority representative Ieva Zilioniene.
In the contest, winners in categories such as government and citizen engagement, health and well-being, learning and education, environment and green energy, culture and tourism, business and commerce, inclusion and empowerment were also chosen.
Previously, a number of Lithuanian solution had won the global contest: Interactio, Bliu Bliu, Verslo vartai, Aqua Lingua: See what you hear and OzBook.
This post is also available in: Lithuanian