At the beginning of this year, we shared how we launched our time-saving feature Form templates. Today we have even bigger news – this feature becomes available to all our paid plan users!
Form templates are a way to simplify your day-to-day operations. All paid account users can create fillable forms, save them as drafts, share the templates within their organisation, and finally, share a link with other parties to fill out and sign. It only requires a few easy steps:
Upload a pdf;
Drag and drop necessary empty fields in the document (you can add a text field, checkbox, radio button, or select/multiple select option);
Share it within your organisation or with other parties by copying and pasting the link.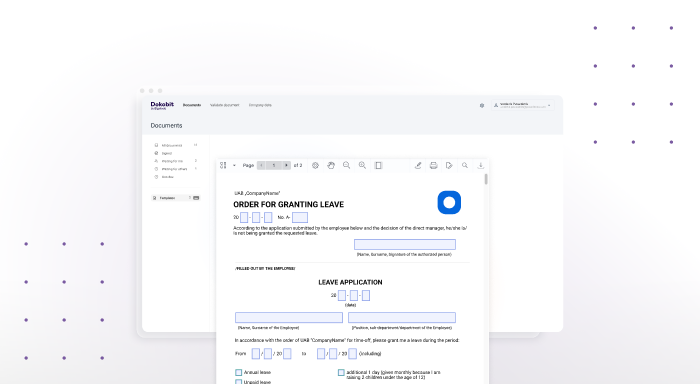 Dokobit users can save templates and share them within their team to be later managed by their colleagues. A shared form can be filled out and signed more than once, and each time it is, a signed document is saved to your Dokobit account. In case a template is not completed or ready for publishing – it can be saved as a draft.
Pricing of signatures made on shared forms remains the same as for regular documents.
Wondering how to get started? Choose a plan that best suits your needs and head to the Form templates on the left panel of the portal homepage.
This post is also available in: Lithuanian Estonian Icelandic Latvian