So you've received a document to sign, but what if it's not you who should sign the document in your organisation? Ask the sender to re-share this document with the right person? Well, it just got way simpler!
We've just released a new feature that we simply call sharing. What does it do exactly?
Imagine you work for a Company Y but in your organisation only the CEO signs documents. Your new business contact Ben works for a Company X. You've agreed on some business deal and so Ben shares a document with you as you've been his only contact thus far. Obviously, you can't sign the document but then the only option is to ask Ben to add your company's CEO to the list of signers. Maybe it's not a big deal but why not simplify things?
From now on, this last step of asking to swap signers won't be needed. You on your own are able to share the received document inside your organisation! If you're the one who receives a document that needs to be signed by the CEO, you can simply add their email to the signers' list and change your own user role from a signer to a viewer. Sounds cool, right?
This allows to shorten the process as Ben might not have time to change the signer right away and you can solve this tiny but important thing on your own. This feature allows moving documents through various company departments in just one click. And just imagine how this will simplify the life of your company's administrator who probably gets tons of documents that need to be signed by the CEO!
In addition to sharing, there's one more small but helpful change. So your organisation received the same document that you've already shared with your CEO (which is obviously cool!). But what about the information that's already filled: document name, categories and other metadata? You can't change them, right? What do you do if in your organisation you've got different naming rules and should add this specific document to another category?
Don't worry, we've got this! You can now easily change this information — rename the documents and add them to your preferred categories. The data you change won't be visible to the document sender, it simply means that from now on you've got the full control to organise incoming documents based on your internal needs!
Sender's view: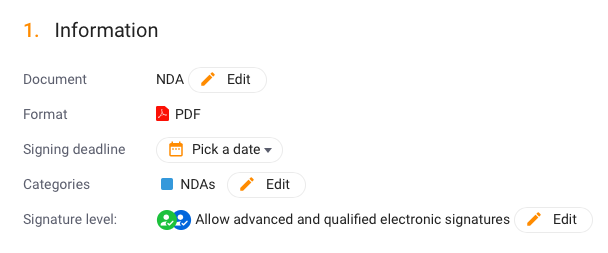 Receiver's view:

Happy signing! Go nuts with bringing impeccable order to your documents!
This post is also available in: Lithuanian Estonian